Black Opal has a dark body tone, and when the play of color emerges on a dark base, it exhibits an exceptionally dazzling and eye-catching display. A top-quality black opal requires an opaque and sufficiently black body tone with a strong play of color. When the play of color is equally intense, a black opal with red fire holds higher value compared to opals with blue or green fire. Red fire is relatively rare in opals, as it requires a longer time for formation and stricter geological and temperature conditions, resulting in limited production. A black opal with red fire will often also display other colors such as golden, blue, green, purple fire, and more. By changing the viewing angle, the transition of the play of color can be clearly observed, resembling the flickering of fire.
Of course, black opal also has various classifications based on different levels. It covers a range of body tones from light gray to dark, including transparent to solid black opals. Black opals are sourced from Lightning Ridge in New South Wales, Australia. They possess excellent quality and high gemstone density. Most of the time, the bottom of black opals is polished with a matte finish, which is the optimal presentation method developed by Australian miners over the years.
Black opal exhibits strong uniqueness. While every natural gemstone is unique, most of them require observation under precise instruments to identify their internal inclusions that cannot be observed with the naked eye. Opals, on the other hand, stand out in their distinctiveness. Even someone unfamiliar with the industry can readily perceive the differences between opals. It is precisely because of their strong uniqueness that black opals frequently become sought-after choices for custom high-end jewelry by renowned brands.
BLACK OPAL, DIAMOND AND MULTI-GEM KINGFISHER BROOCH, CARTIER (Image source from: https://www.christies.com/lot/lot-black-opal-diamond-and-multi-gem-kingfisher-brooch-6295904/?)

Chopard, RED CARPET COLLECTION 2020, CULTURED WHITE PEARL NECKLACE (Image source from: https://www.chopard.com/en-us/high-jewellery-universe/red-carpet-2020.html)

Chopard, RED CARPET COLLECTION 2020, BLACK OPAL EARRINGS
(Image source from: https://objects-prod.cdn.chopard.com/q_auto,f_auto,dpr_2/t_page-push-desktop/w_1920,h_700,c_fill,g_custom/Campaigns/red-carpet-2020/New_pc_rc2020_4)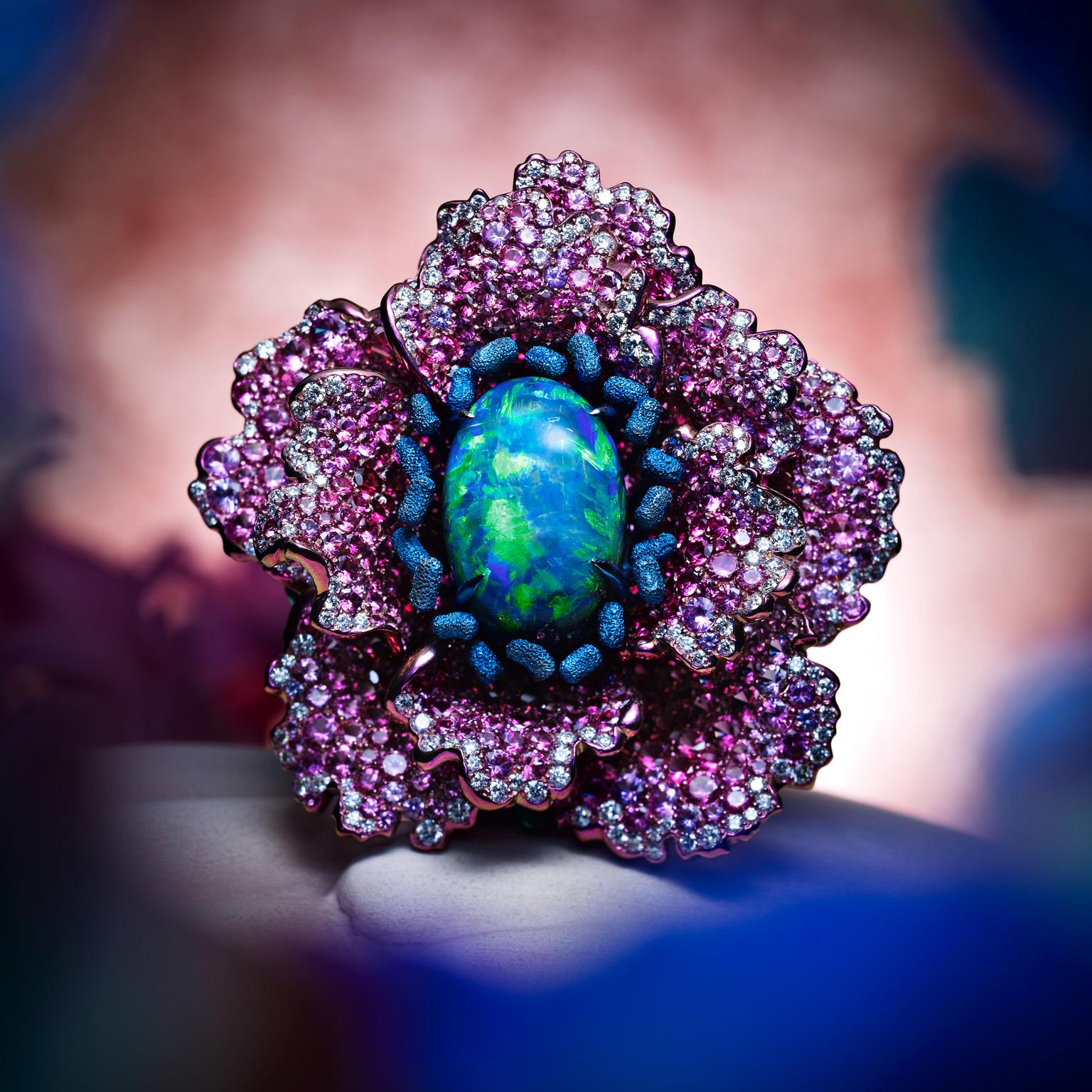 Chopard's Fleur d'Opales collection. Black Opal 24.3cts
(Image source from: https://www.thejewelleryeditor.com/shop/product/chopard-fleurs-dopales-9ct-black-opal-ring/ 
 https://highjewellerydream.com/zh-TW/chopard-fleurs-dopale-capsule-collection-mystery-and-fascination/)